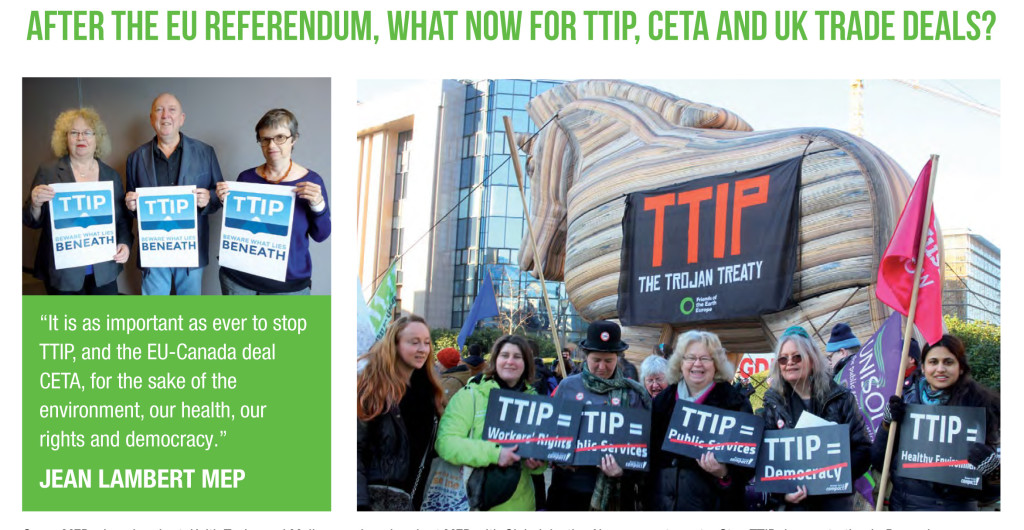 2nd September 2016
Where do the damaging trade deals between the EU and Canada and the US stand now following the EU referendum vote? And what is the future for UK trade? These questions are addressed in this new briefing from Jean Lambert MEP 'Stop Toxic Trade: After the EU referendum, what now for TTIP, CETA and UK trade deals?'
Across Europe, campaigns to stop the EU-US trade deal TTIP (Transatlantic Trade and Investment Partnership) are having a big impact. And TTIP's chances of success are further affected by the UK referendum outcome which creates more uncertainty for the future of TTIP.  This is an opportunity we must take advantage of to stop TTIP, Jean argues.
The proposed EU deal with Canada – known as CETA – is further advanced than TTIP, so it will set a precedent. Any terms agreed with Canada will be even more difficult to stop in the US deal or in future trade deals made by the UK government. CETA has to pass through the European Parliament and Greens are committed to vote against it. But, there is still a big job to do to defeat it and stop it coming into force.
As the UK moves to negotiate its own trade deals outside the EU in future, Greens will be pushing for it to continue to meet EU environmental standards and objectives and keep in place EU social rights and protections, as well as other progressive EU-derived legislation such as the cap on bankers' bonuses and animal welfare standards. Importantly, we must fight against harmful provisions in all trade deals and work for just trade that transforms people's lives for the better.
"As the UK moves towards leaving the EU, we must continue to build the international anti-TTIP movement, and to build opposition to any new unjust trade deals proposed by the UK Government. We must continue to push for trade justice in all trade agreements. Now more than ever," writes Jean in the briefing.
Read the full briefing 'Stop Toxic Trade: After the EU referendum, what now for TTIP, CETA and UK trade deals?'.